The same SUV once drove around Richard Hammond in a Porsche 918 Spyder
A new speed record has been set at drag racing competitions in the United Arab Emirates – 376.17 kilometers per hour. Nissan Patrol R, equipped with a boosted engine from the sports car GT-R R35, was able to develop so much on the quarter. In addition to the aftermarket engine, the SUV received a sequential gearbox, GT-R chassis components and an ATTESA E-TS all-wheel drive transmission. The same car previously participated in the show The Grand Tour.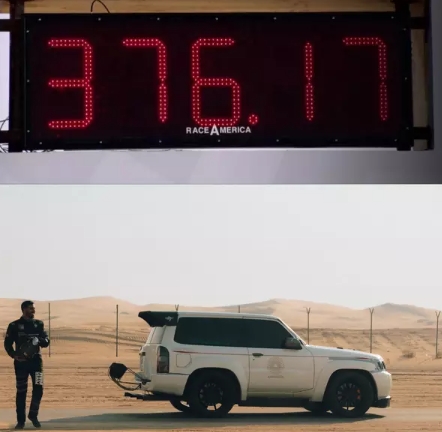 The three-door Nissan Patrol R from the Dubai studio F Performance is well known to fans of The Grand Tour. This is the same car that drove around Hammond in a Porsche 918 Spyder, only now the SUV is even faster. During the races of Tilal Swaihan, he developed 376.17 kilometers per hour on the quarter. For reference: the previous achievement also belongs to Patrol, only different, and is 355.6 kilometers per hour.
Not much is known about the car. Basically, old data is indicated everywhere, but it is unlikely that something radical has changed in F Performance. So, the SUV is equipped with a bored engine from the Nissan GT-R R35 (built by Texas T1 Race Development and develops about 2000 hp) and a six-speed sequential gearbox. The ATTESA E-TS all-wheel drive system is also borrowed from the GT-R, along with hubs, brakes, axle shafts and a rear subframe.